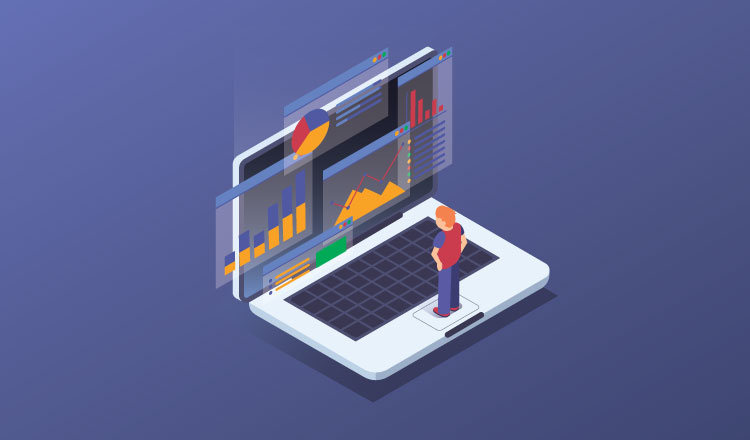 First off, to completely understand the capabilities and offerings of Power BI Free, you need a general understanding of the difference between Power BI Desktop and Power BI Service.
Power BI Desktop
Power BI Desktop is an application installed free on your local computer. From the desktop version, functionality is not limited, providing you complete report building capability. This is where BI designers spend their time transforming data into full functioning reports. The desktop version allows you to:
Connect to data sources such as Access, Excel, SQL servers
Edit and transform raw data into appropriate and usable format
Manage relationships between data tables
Build interactive visualizations on the data
Export data in Power BI Desktop to Excel, PowerPoint, csv
Power BI Service
The Power BI Service is cloud based, hosted on the internet rather than your local computer like Power BI Desktop. Overall, report building and data modeling is limited since the functionality is dedicated to collaborating and sharing reports with others. As an individual, when you create reports for yourself, you can publish your reports out to the Service and access the reports from anywhere in the cloud. Typically, the service is used to share the reports out to more than the creator of the report. For example, as a finance analyst on your team, you may create a report that discusses your Year to Date Revenue by Division. If you want to share that to other users, this is done within the Service. In most circumstances, all users that view the reports developed within Power BI, do this through the online cloud service. When you want to share a report, a license is required.
What is Power BI Free?
Power BI Free includes every aspect of the Power BI Desktop. Complete data manipulation and report building is possible by simply downloading the free desktop version on your computer.
Power BI Free is generally thought to not include the Power BI Service (cloud-based application). Although, there are certain aspects of the Service that Power BI free allows access to:
Publish to the cloud-based Power BI Service
Embed on public websites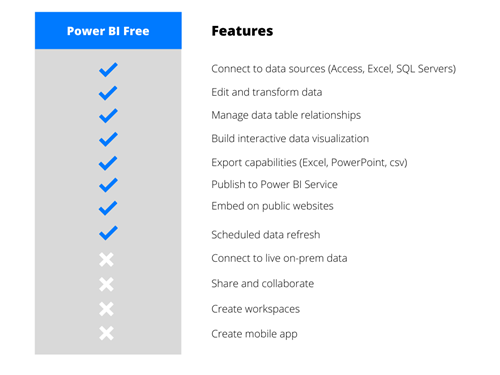 The areas of Power BI Service not included in Power BI Free (requiring Power BI Pro):
Connect to live on-prem data (direct-query feature)
Share and collaborate on reports
Create workspaces – collection of dashboards and reports for collaboration
Create mobile app

The Big Picture
Power BI Free is a full development tool. It allows you to do everything you could do if you had a license. However, when sharing and collaboration is required, you move beyond the Free version of Power BI and a license is then required.
Why Power BI free?
Power BI Free is perfect for small business owners and individual personal data users who want to analyze, predict, and manage analytics with interactive visuals and insights. It is appropriate for small scale companies not looking to integrate or scale collaboration on analytics throughout the business. The free desktop version requires no subscription to Microsoft Office 365. It is great for the software selection process and for getting started with transforming your data.